Spanish Grapes (Red)
To find out more on white grapes in Spain why not check out our page dedicated to Spanish White Grapes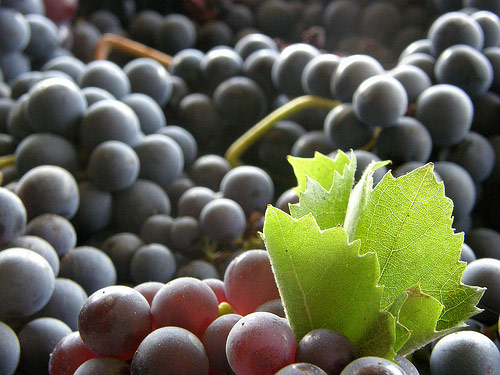 As you know, wine is made from fermented grape juice. It stands to reason then, that to make a good wine the grapes have to be of good quality too. There are over 100 Spanish grape varieties, both red and white, and wine regions normally have one or two native Spanish grape varieties. Below is a list of the most commonly found red graped in Spain.
Spanish red grapes
Spain has one of the most varied wine cultures in the world, mainly because of the high number of Spanish grape varieties. The most common Spanish red grape is the Garnacha grape.
A
Alicante: Also called Garnacha Tintorera.
B
Bobal: It was though to be extinct, but it's making a comeback. Native to the Levante area.
Brancellao: Very rare, almost on the point of extinction. Native to Galicia.
C
Cabernet Franc: Native to the Bordeaux region. One of the "fathers" of the Cabernet Sauvignon.
Cabernet Sauvignon: Red grape. Native to France, but very popular in Spain, especially in Catalonia, Navarre and Ribera del Duero.
Caiño: Red and white. Native to the north of Spain, around the Galicia region. Quite scarce.
Callet: Native to Mallorca.
Cariñena: Mostly used in Catalonia and La Rioja.
Cencibel: Also called Tempranillo.
E
Espadeiro: Native to Galicia but very scarce.
F
Ferrón: Very scarce, used in DO Ribeiro mainly.
Fogoneu: Native to Mallorca.
Forcayat: Used in DO Valencia.
G
Garnacha tinta: Widely spread around Spain, and main red grape variety in many DOs.
Garnacha tintorera: It's one of the few varieties with a red pulp.
Graciano: High quality wines are extracted from the Graciano, but it's not very productive and thus expensive to plant.
H
Hondarrabi Beltza: Main grape used for txakolí and native to the Basque Country.
J
Jaén: Mainly used in Badajoz, Canarias, Granada, Madrid and Toledo.
Juan Ibañez: Not very abundant. Mainly used in DO Cariñena.
L
Listán negro: Used mainly in the wines produced in Tenerife.
M
Malbec: Native to France. In Spain it's mainly planted in Ribera del Duero.
Manto negro: Native to the Balearic Islands and used in DO Binissalem.
Mazuela: Another name for Cariñena.
Mencía: Recent studies have shown it's very similar to the Cabernet Franc variety. Mostly planted in the north of Spain.
Merenzao: Native to Galicia and used in DO Valdeorras. As with many Galician grapes, it's very scarce.
Merlot: Native to Bordaux. Most popular grape around the world after the Cabernet Sauvignon. In Spain it's mostly used in Ribera del Duero, Catalonia and Navarre.
Monastrell: Mostly found towards the south of Spain. Mostly found in Murcia, Alicante, Albacete and Valencia. Main variety in the DOs of Alicante, Almansa, Costers del Segre, Jumilla, Penedés, Valencia and Yecla.
Morisca: Used in the wine region of Cañamero.
Moristel: Main variety used in DO Somontano.
N
Negra de Madrid: Mostly used in Madrid, Zamora and Toledo.
Negramoll: Used mainly in the Canaries in the DOs in Tenerife.
P
Parreleta: Native to DO Somontano.
Petit Verdot: Native to France, it's starting to be used in Spain.
Pinot Noir: Used as a base grape for champagne despite its red color. Native to France but used all across the world, especially in Europe, America and Oceania.
Prieto Picudo: Abundant in Zamora and Leon.
Provechón: Concentrated in Aragón and Cañamero and used in DO Ribera del Guadiana.
R
Rufete: Grows in the mountain ranges around Salamanca.
S
Samsó: Native to the Penedes region, but currently it's not very used.
Sousón: Native to Galicia and like most of the Galician grapes quite scarce. Used in DO Ribeiro and DO Rias Baixas.
Sumoll: Grown in Barcelona.
Syrah: Native to Persia. Used mostly in the central and southern parts of France and in Spain in Catalonia and Castile La Mancha.
T
Tempranillo: It's the star of Spanish grapes. Main variety in DO Calatayud, Cigales, Conca de Barberá, Costers del Segre, La Mancha, Penedes, Ribera del Duero, Rioja, Somontano, Utiel-Requena, Valdepeñas and wines of Madrid.
Tinta de Toro: High quality and low production. Main variety of the DO Toro wines.