Cava, the Spanish sparkling wine made by the champagne method
Cava is a Spanish sparkling wine similar to Champagne that is almost exclusively produced in the Northern Spanish region of Catalonia. However, Cava may not be referred to as the Spanish champagne as the French drink has a protected status under the European Union. In Spain however, some people still refer to the drink as 'champán' or 'champaña'. Cava has become an important part of Catalan and Spanish family traditions and tends to be consumed on special occasions from weddings to parties and is particularly popular around Christmas - something which you will see if you visit Spain at this time.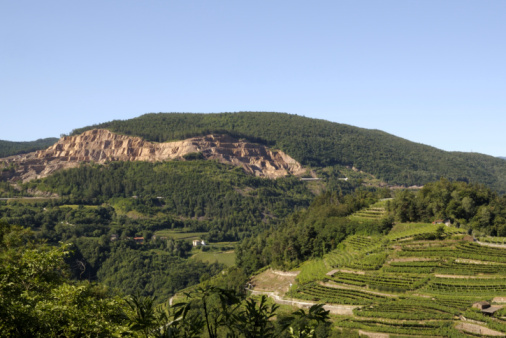 The name cava, as those of you who study Spanish abroad will know, means 'cave' or 'cellar' in both Spanish and Catalan. Caves were in fact used during the early stages of the production of cava as places to store the wine during preservation and ageing periods. This word was adopted officially in the 1970s to make the distinction clear between the Spanish and the French sparkling wines.
History of Cava
Cava did however originally begin life as a copy of French champagne. It was first made during the investigations of Luis Justo Villanueva at the 'Instituto Agrícola Catalán de San Isidro' (Catalan Agricultural Institute of San Isidro) who was looking into the traditional champagne production method.
From there, the first true producers of the Spanish sparkling wine were Francesc Gil and Domingo Soberano de Reus who made some of their own champagne for the Universal Expo of Paris in 1868. This early version of cava was produced using the same varieties of French grapes as the ones used in the region of Champagne.
In 1887, the phylloxera plague arrived to the region of Penedés, destroying most of the cultivated grapes in the area. This led to the restoration of a number of grape vines, as well as the introduction of some new varieties, especially a large collection of white grapes. This replanting was what helped cava to develop and acquire its own personality, distinct from champagne.
Cava producers have also been significant in the development of technology used in the wine making process. For example, they played a large part in the development of the gyropalette which is a machine that helped speed up the process of refining the wines and removing sediment from the bottles - a process that had originally been done by hand.
In 1972, the debate over cava and champagne came to a head, and the Consejo Regulador de los Vinos Espumosos (Regulatory Council of Sparkling Wines) was established. This body decided to use the name 'cava' to refer to the sparkling wine of Spain in order to settle the dispute with France. From this point on, cava has become the biggest rival to Champagne, although the directors of both countries' wine offices say that they are distinct entities.
Today, cava is oficially defined as a 'Vino Espumoso de Calidad Producido en una Región Determinada' (A quality sparkling wine produced in a designated region) and of course, has Designation of Origin. However, only those sparkling wines that have been made using the traditional style may be called Cava, others are simply called sparkling wines, or 'vinos espumosos'.
Types of Cava
The types of Cava may be classified by the amount of sugar added to them, leading to the following classes:
Brut Nature - up to 3 grams of sugar, not added sugar
Extra Brut - up to 6 grams of sugar per litre
Brut - up to 12 grams of sugar per litre
Extra Seco (extra dry) - between 12 and 17 grams of sugar per litre
Seco (dry) - between 17 and 32 grams of sugar per litre
Semiseco (semi-dry) - between 32 and 50 grams of sugar per litre
Dulce (sweet) - more than 50 grams of sugar per litre
In the cases of Brut Nature and Extra Brut, where no added sugar is added, only wine, has changed the production of cava. These types of cava have become much more popular and tend to be extremely high quality which has led to an increase in their production. However this has also resulted in a decrease in the output of Semiseco cava, and the sweet variety has almost stopped being made altogether.
Spanish cava may also be classified according to the time the wine has spent ageing:
Joven - from 9 to 15 months
Reserva - from 15 to 30 months
Gran Reserva - more than 30 months (subject to a tasting and analysis by the Consejo Regulador del Cava)
If you want to find out more about the production of Cava, why not keep reading!