Agua de Valencia: Made with Cava
Agua de Valencia is a Spanish cocktail that has an interesting history. The basic ingredients of the drink are Cava (or Champagne), orange juice, vodka and gin. Normally, the cocktail is served in large jugs between a group of friends or family, and is then drunk from cocktail glasses.
History of Agua de Valencia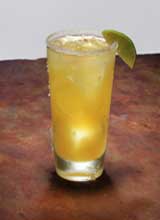 According to popular history, the drink was first made in 1959 by Constante Gil in the Café Madrid in Valencia. In the book 'Valencia noche' by María Ángeles Arazo, it is said that during this time, a group of Basque travellers who used to visit Valencia would ask for 'Agua de Bilbao', referring to the best sparking wine of the house. Sick and tired of asking for the same thing, the travellers then decided to ask the owner of the bar to offer them something new. The owner, Constante Gil, therefore proposed they drank 'Agua de Valencia', as a kind of joke. To his surprise though, the Basques accepted and so he had to make up a cocktail in that moment. Fortunately however, it turned out to be very successful and the Basque travellers always asked for the cocktail every time they returned to the city.
For the first decade after the creation of this Spanish cocktail, the drink was only known by a small group of clients and it wasn't until the 1970s when it became known throughout the Valencian night scene. From then on though, the drink has become quite popular.
The name of the cocktail from Valencia, also gave rise to a number of other cocktails throughout the country. If you ever visit Sevilla then you might see Agua de Sevilla, and nearer to Valencia, you might see Agua de Malvarrosa. There are also a few variations of Agua de Valencia as well, including one made with lemon sorbet.
As for the drink's creator, Constante Gil, he left the Café Madrid in 2000 and from then on, he dedicated himself to painting; an activity which he had enjoyed as a youth before moving to Valencia. His series of paintings entitled 'Tertulias de café' - which those of you who take Spanish courses in Spain will know means 'Cafe Gatherings' - depicted a number of the clients from his days at the café drinking various cocktails including 'Agua de Valencia' and 'Rocafull'. Sadly, Constante Gil died in June 2009.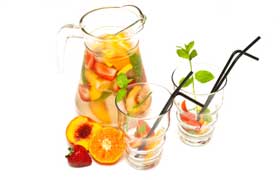 The drink however is not officially called 'agua de Valencia' as it was thought that it would be confusing for some, as the term is also used to describe any wine from the region of Valencia. However despite this, the drink is well known in the area and you should definitely ask for it if you visit a bar or restaurant in the city. Furthermore, there are a number of bottled brands of the drink on sale.
Recipe
200ml Orange Juice
50ml Gin
50ml Vodka
700ml Cava (or Champagne)
Pinch of sugar
Method:
Into a pitcher jug, pour one glass of orange juice - best if it is freshly squeezed orange juice.
Add a bottle of semi-dry Cava (or Champagne if you do not have Cava).
Add a shot and a half of both vodka and gin.
Add the sugar according to taste.
Refrigerate before serving.
Serve in the jug, and then pour into glasses to drink. Enjoy!
If you are planning on making this drink then you may want to consider these pieces of advice. Do not use orange liquors such as Cointreau to make the drink as it is the fresh orange juice that gives the drink its aromatic qualities. Also, try to use oranges grown in the Valencia region as this will make the drink more authentic.
Naturally, good quality alcohol will make the drink taste better, and Cava is always preferable to Champagne as it is truly Spanish. The sugar is optional, and if you prefer a drier cocktail instead of a sweet one, then you can always use dry Cava or Brut. It is also a good idea to prepare this Spanish drink in advance as it is best served very cold which means time in the fridge. You should mix the drink in the pitcher with a spoon, but when serving the drink, you should try and remove the spoon from the jug without disturbing the mixture too much.