Jerez Wineries and Tours
The Sherry triangle is a great place to explore as there are so many different things to do. Aside from the Sherry wineries you can also enjoy the city of Jerez de la Frontera's history and the famous dancing horses. You could also visit Cádiz and enjoy a bit of maritime history by visiting the port, or just chill out along the sea front. Of course, remember to fit trying some of the Sherry into your schedule!
Sherry Wine Tours
The Sherry triangle, marked by Jerez de la Frontera, Sanlúcar de Barrameda, and El Puerto de Santa María, has been making this fortified wine for centuries and has always commanded a high level of respect from all cultures. As such, there are a number of historic wine cellars in the region that are well worth visiting and will definitely be found in your Spain travel guide.
Pedro Domecq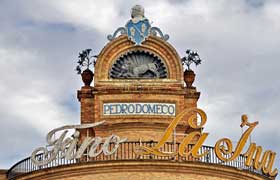 The Bodegas Fundador Pedro Domecq is the oldest Sherry firm in the city of Jerez, dating back to the 18th century. They have a number of sites which are made up of some spectacular, historical buildings including the wine cellars of San Pedro, El Molino and La Luz, among others. All of the sites are an excellenty combination of art, history, architecture, craftmanship, and of of course great Sherry, make this one of the best Sherry wineries to visit. The firm was even named as the best wine producer in the world in 2005 by the International Wine and Spirits Competition.
Tours are provided in both English and Spanish and will include a tour of the cellars as well as a tasting session. For an additional price, tapas will also be provided at the Sherry tasting session.
Contact Info
C/ San Ildefonso 3, 11403 Jerez de la Frontera
Telephone: 0034 956 151 500
Fax: 0034 956 338 674
Gutierrez Colosia
The Gutierrez Colosia bodegas have been producing Sherry since the year of 1838, and is the only manufacturer to be located next to the Guadalete River. Its priviledged position mean that the cellars are affected by both the dry 'Levante' and humid 'Poniente' winds, providing it with the best conditions for Sherry ageing, especially of the Fino variety of Sherry.
A tour of the Gutierrez Colosia bodega will include a tour of the wine cellars as well as a Sherry tasting with apetizers and tapas. The wine cellar also puts on Flamenco shows which you can enjoy with a glass of their best wines.
Contact Info
Avda. Bajamar, 40, 11500 El Puerto de Santa María, Cádiz
Telephone: 0034 956 852852
Sandeman
This particular winery is characterised by its famous logo which depicts a shadowy Spanish caballero with his long cape and hat. The Sandeman wine cellars were actually first set up by a Scotsman in the early 19th century and from then on, was a pioneering company in the industry. For example, they were the company to brand casks. The Sandeman brand was officially established in 1877, making it one of the oldest in the world.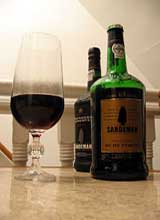 Visitors to the Sandeman cellars are very welcome and their prize-winning guides will take you around the chilly wine cellars to show you where the Sherry is produced and so that you can experience the 200 year history of the bodega. There is a strong emphasis on the mystery of the brand's symbol, 'The Don'.
Contact Info
Calle Pizarro 10, 11403, Jerez de la Frontera
Telephone: 0034 956 312995
Fax: 0034 956 302626
Osborne
Osborne is one of the most famous Spanish wine brands in Spain, not least because of its famous black bull signs. The Sherry wine cellar of this large company can be found in El Puerto de Santa María, where it was established by Thomas Osborne Mann at the end of the 18th century. The cellars have a close link with the city and have helped to increase its production of Sherry as well as its fame.
A tour of the Osborne Sherry cellars comprises of a tour of the cellars and a tasting session. This particular company produces a few different types of Sherry including fino and manzanilla, so make sure you try them all.
Contact Info
Ctra Nacional IV, Km 651. 11500 El Puerto de Santa María, Cádiz
Telephone: 0034 956 854 228
Fax: 0034 956 877 514
Most of these wine cellars are very famous across the world so they are likely to have English speaking tour guides. However, this may not always be the case. Therefore you may want to consider taking some Spanish classes before heading to the cellars. Furthermore, your tour guides may appreciate it if you spoke a little bit of Spanish!